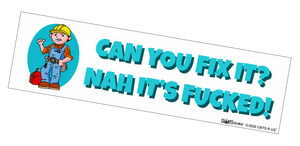 Yeah it's fucked...
Single Bumper Sticker

195mm x 55mm Rectangle Sticker
Vinyl - Gloss Finish
Laser Printed
**SPECIAL**
LIMITED TIME ONLY - Buy this sticker and get ANY extra stickers for only $1 each (any design).  Email us or leave a note during checkout to let us know and we will contact you.
Body the builder sticker
Loved the sticker. Great service. I just wish you'd change the company name as it's pretty offensive and I share an email with my wife who doesn't appreciate seeing the "C" word when scrolling through our mail.