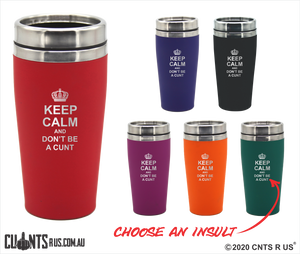 Keep Calm And Don't Be A Cunt
475ml travel mug - Stainless Steel/Double Wall
Rubber Paint Coating (Matte Effect)

BPA Free


Laser Engraved - (not printed) so the wording won't come off
These travel mugs are double walled with a plastic inside and a stainless steel outside.  They are spill proof with a secure button on the lid and will keep your drinks cool or warm in any weather.
We can personalise these - if you would like something different on your bottle please leave a note during checkout to let us know.
Travel mug and water bottle
Can't review the mug as it was a pressie for my sister but if it's as awesome as my water bottle then a HUGE 10/10!!!!! Absolutely LOVE it! I use it all throughout the day and just the fact I don't have to struggle with it brings me the greatest pleasure! It also gets my point across when I don't want to talk to people 😂
Thank you Cunts R Us! 100% satisfaction from me!