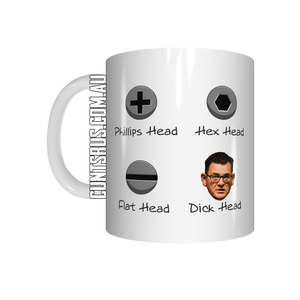 Funny Mug!
Dishwasher and Microwave Safe

High Quality Ceramic

Capacity 325ml 

Comes in a polystyrene box to protect during shipping

Printed on Both Sides
Phillips Head Hex Head Flat Head Dick Head Coffee Mug
These cups have been a hit during covid lockdown and the demand is still ongoing. Obviously resonates the thoughts of many Victorians towards our elected member.